{"id":6662873710751,"title":"3 Mode High-Pressure Ionic Filtration Water Saving Shower Head","handle":"3-mode-high-pressure-ionic-filtration-water-saving-shower-head","description":"\u003cdiv data-v-14c47a90=\"\" data-v-796cd32d=\"\" class=\"element-wrapper\"\u003e\n\u003cdiv data-v-14c47a90=\"\" class=\"paragraph el-840552\"\u003e\n\u003cdiv class=\"paragraph-inner\"\u003e\n\u003ch3 style=\"text-align: center;\"\u003e\u003cspan style=\"color: #ff2a00;\"\u003e\u003cstrong\u003e😱Throw That Old Infested Shower Head Away!\u003c\/strong\u003e\u003c\/span\u003e\u003c\/h3\u003e\n\u003c\/div\u003e\n\u003c\/div\u003e\n\u003c\/div\u003e\n\u003cdiv style=\"text-align: center;\" data-v-14c47a90=\"\" data-v-796cd32d=\"\" class=\"element-wrapper\"\u003e\u003c\/div\u003e\n\u003cdiv data-v-14c47a90=\"\" data-v-796cd32d=\"\" class=\"element-wrapper\"\u003e\n\u003cdiv data-v-14c47a90=\"\" class=\"paragraph el-987611\"\u003e\n\u003cdiv class=\"paragraph-inner\"\u003e\n\u003cp style=\"text-align: center;\"\u003eYet you still have \u003cstrong\u003edry skin and damaged\u003c\/strong\u003e\u003cspan\u003e \u003c\/span\u003e\u003cstrong\u003ehair\u003c\/strong\u003e\u003cspan\u003e? Your shower head is to blame!\u003c\/span\u003e\u003c\/p\u003e\n\u003c\/div\u003e\n\u003c\/div\u003e\n\u003c\/div\u003e\n\u003cp\u003e\u003cimg style=\"display: block; margin-left: auto; margin-right: auto;\" height=\"374\" width=\"312\" src=\"https:\/\/img.funnelish.com\/3730\/15334\/1641765329-Competitors%20%281%29.png\"\u003e\u003c\/p\u003e\n\u003cdiv style=\"text-align: center;\"\u003eThe High-Pressure Shower Head will turn your shower into a home spa in just 5 minutes. Universal Size G1\/2" fits any standard shower which means there is no need to contact a plumber. Suitable for low water pressure pipelines in old-style residences also \u003c\/div\u003e\n\u003cdiv\u003e\u003cimg src=\"https:\/\/cdn.shopify.com\/s\/files\/1\/0248\/6665\/2222\/files\/high_pressure_water_saving_shower_head_filter.gif?v=1582799273\" alt=\"water saving shower head\" style=\"display: block; margin-left: auto; margin-right: auto;\"\u003e\u003c\/div\u003e\n\u003cdiv\u003e\u003c\/div\u003e\n\u003cp\u003e\u003cspan style=\"color: #ff2a00;\"\u003e\u003cstrong\u003eDESCRIPTIONS:\u003c\/strong\u003e\u003c\/span\u003e\u003c\/p\u003e\n\u003cul\u003e\n\u003cli\u003eEnjoy luxurious Spa experience with \u003cspan style=\"color: #3d85c6;\"\u003e\u003cstrong\u003ehigh-pressure ionic filtration shower head\u003c\/strong\u003e\u003c\/span\u003e!\u003c\/li\u003e\n\u003cli\u003eImpurities in your tap water will often dry your skin and cause an imbalance in your oil glands.\u003c\/li\u003e\n\u003cli\u003eWith the purifying effect of the bioactive stones, our shower heads will help you restore balance.\u003c\/li\u003e\n\u003cli\u003eHealth benefits may include smoother skin, reduce oil secretion, and increase cell viability.\u003c\/li\u003e\n\u003c\/ul\u003e\n\u003cp\u003e\u003cimg src=\"https:\/\/cdn.shopify.com\/s\/files\/1\/0515\/1817\/7446\/products\/71550119-7817-4c23-bd5c-6c735a78fa34.__CR0_0_970_600_PT0_SX970_V1_720x_38ec3fa9-ba7d-470c-a904-cbda7dda807b_600x.jpg?v=1640951888\" width=\"376\" height=\"207\" style=\"display: block; margin-left: auto; margin-right: auto;\"\u003e\u003c\/p\u003e\n\u003cp\u003e\u003cspan style=\"color: #ff0000;\"\u003e\u003cstrong\u003eFEATURES:\u003c\/strong\u003e\u003c\/span\u003e\u003c\/p\u003e\n\u003cdiv class=\"Product__InfoWrapper\"\u003e\n\u003cdiv class=\"Product__Info\"\u003e\n\u003cdiv class=\"Container\"\u003e\n\u003cdiv class=\"ProductMeta__Description\"\u003e\n\u003cdiv class=\"Rte\"\u003e\n\u003cul\u003e\n\u003cli\u003e\n\u003cspan style=\"color: #ff8000;\"\u003e\u003cstrong\u003e👍 High quality and durable:\u003c\/strong\u003e \u003c\/span\u003eMade of thickened ABS body, high-density transparent filter with the built-in leakproof ring, this shower head is eco-friendly and durable to use. Surface treated with high-grade electroplating, it looks elegant and beautiful and glossy.\u003c\/li\u003e\n\u003c\/ul\u003e\n\u003cul\u003e\n\u003cli\u003e\n\u003cspan style=\"color: #ff8000;\"\u003e\u003cstrong\u003e👍 Powerful filtering capability:\u003c\/strong\u003e \u003c\/span\u003eBuilt-in negative ion mineral beads can remove residual chlorine, metallic impurity, fluoride and bacteria, maintain the PH balance of water, purify water quality, soften your skin and hair.\u003c\/li\u003e\n\u003c\/ul\u003e\n\u003cp\u003e\u003cimg style=\"display: block; margin-left: auto; margin-right: auto;\" height=\"351\" width=\"351\" alt=\"\" src=\"https:\/\/cdn.shopifycdn.net\/s\/files\/1\/0537\/1684\/4743\/files\/5_36fdb16d-d5f2-4ad3-86d8-d01088839b84_480x480.png?v=1626244244\"\u003e\u003c\/p\u003e\n\u003cul\u003e\n\u003cli\u003e\n\u003cspan style=\"color: #ff8000;\"\u003e\u003cstrong\u003e👍 3-modes adjustable:\u003c\/strong\u003e \u003c\/span\u003eThis showerhead has 3 adjustable watering modes which can meet your different needs.\u003c\/li\u003e\n\u003c\/ul\u003e\n\u003cul\u003e\n\u003cli\u003e\n\u003cspan style=\"color: #ff8000;\"\u003e\u003cstrong\u003e👍 High pressure and water Saving:\u003c\/strong\u003e \u003c\/span\u003eThe fine and dense micro water outlets design to increase the speed of the water flow, making outflow water strongly and delicately, greatly increasing water pressure while saving more water.\u003c\/li\u003e\n\u003c\/ul\u003e\n\u003cul\u003e\n\u003cli\u003e\n\u003cdiv\u003e\n\u003cspan style=\"color: #ff8000;\"\u003e\u003cstrong\u003e👍 Special Mineral Balls\u003c\/strong\u003e -\u003c\/span\u003e The infrared mineral stone and negative ion mineral stone make up double filter system for reducing chlorine and absorbing harmful substances in the water, softens and purifies shower water to make your skin and hair smoother and softer\u003c\/div\u003e\n\u003c\/li\u003e\n\u003c\/ul\u003e\n\u003cp\u003e\u003cimg style=\"display: block; margin-left: auto; margin-right: auto;\" alt=\"\" src=\"https:\/\/cdn.shopify.com\/s\/files\/1\/0515\/1817\/7446\/files\/zhang-ji-3-modes-bath-shower-adjustable-j_description-24_480x480.jpg?v=1619613858\" width=\"351\" height=\"351\"\u003e\u003c\/p\u003e\n\u003cul\u003e\n\u003cli\u003e\n\u003cspan style=\"color: #ff8000;\"\u003e\u003cstrong\u003e👍 Easy to install:\u003c\/strong\u003e \u003c\/span\u003eDesigned for connecting to any standard shower hose in minutes without extra tools, very quickly and easily.\u003c\/li\u003e\n\u003c\/ul\u003e\n\u003c\/div\u003e\n\u003c\/div\u003e\n\u003c\/div\u003e\n\u003c\/div\u003e\n\u003c\/div\u003e\n\u003cul\u003e\n\u003cli\u003e\n\u003cp data-mce-fragment=\"1\"\u003e\u003cspan style=\"color: #ff8000;\"\u003e\u003cstrong\u003e▶ All-natural\u003c\/strong\u003e \u003c\/span\u003eBio-active Stones provide Eco-pure Water Filtration, Keep water's pH Balance.It also makes your skin and hair smoother and softer by purifying the water and softening its Comfortable SPA experience in your own bathroom.\u003c\/p\u003e\n\u003c\/li\u003e\n\u003c\/ul\u003e\n\u003cp\u003e\u003cimg style=\"display: block; margin-left: auto; margin-right: auto;\" alt=\"\" src=\"https:\/\/cdn.shopify.com\/s\/files\/1\/0515\/1817\/7446\/files\/shower_head_img_3_480x480.jpg?v=1624725689\" width=\"350\" height=\"350\"\u003e\u003c\/p\u003e\n\u003ch3\u003e\u003cspan style=\"color: #ff8000;\"\u003e\u003cstrong\u003e3 SPRAY SETTINGS\u003c\/strong\u003e\u003c\/span\u003e\u003c\/h3\u003e\n\u003cul\u003e\n\u003cli\u003e\n\u003cspan data-mce-fragment=\"1\"\u003e\u003cstrong data-mce-fragment=\"1\"\u003eMassage: \u003c\/strong\u003e\u003c\/span\u003eTargets your tension with a more focused stream, melting away aches and pains.\u003c\/li\u003e\n\u003cli\u003e\n\u003cspan data-mce-fragment=\"1\"\u003e\u003cstrong data-mce-fragment=\"1\"\u003eRainfall: \u003c\/strong\u003e\u003c\/span\u003eCreates a more relaxing shower experience with a constant, steady water flow.\u003c\/li\u003e\n\u003cli\u003e\n\u003cstrong data-mce-fragment=\"1\"\u003e\u003cspan\u003eJetting\u003c\/span\u003e: \u003c\/strong\u003eA high intensity spray to wake you up, give you a more powerful clean and invigorate your senses\u003c\/li\u003e\n\u003c\/ul\u003e\n\u003cp data-mce-fragment=\"1\"\u003e\u003cem data-mce-fragment=\"1\"\u003e\u003cspan data-mce-fragment=\"1\"\u003e\u003cstrong data-mce-fragment=\"1\"\u003e\u003cimg data-mce-fragment=\"1\" src=\"https:\/\/cdn.shopify.com\/s\/files\/1\/0515\/1817\/7446\/files\/wholesale-bathroom-ionic-mineral-pressur_main-2_480x480.jpg?v=1640512230\" alt=\"\" style=\"display: block; margin-left: auto; margin-right: auto;\" data-mce-src=\"https:\/\/cdn.shopify.com\/s\/files\/1\/0515\/1817\/7446\/files\/wholesale-bathroom-ionic-mineral-pressur_main-2_480x480.jpg?v=1640512230\" data-mce-selected=\"1\"\u003e\u003c\/strong\u003e\u003c\/span\u003e\u003c\/em\u003e\u003c\/p\u003e\n\u003cp\u003e\u003cspan style=\"color: #ff0000;\"\u003e\u003cstrong\u003eSpecification:\u003c\/strong\u003e\u003c\/span\u003e\u003c\/p\u003e\n\u003col\u003e\n\u003cli\u003e- \u003cstrong\u003eShowerhead Length\u003c\/strong\u003e: 9.44in\u003c\/li\u003e\n\u003cli\u003e- \u003cstrong\u003eShowerhead Diameter\u003c\/strong\u003e: 3.14in\u003c\/li\u003e\n\u003cli\u003e- \u003cstrong\u003eFlow Rate\u003c\/strong\u003e: 2.5 GPM\u003c\/li\u003e\n\u003cli\u003e- \u003cstrong\u003eWater Consumption\u003c\/strong\u003e: 2.5 GPM\u003c\/li\u003e\n\u003c\/ol\u003e\n\u003cp\u003e\u003cbr\u003e\u003cspan style=\"color: #ff0000;\"\u003e\u003cstrong\u003ePackage includes :\u003c\/strong\u003e\u003c\/span\u003e\u003c\/p\u003e\n\u003cul\u003e\n\u003cli\u003e1 * \u003cspan style=\"color: #3d85c6;\"\u003e\u003cstrong\u003ehigh-pressure ionic filtration shower head\u003c\/strong\u003e\u003c\/span\u003e\n\u003c\/li\u003e\n\u003c\/ul\u003e\n\u003cdiv style=\"text-align: center;\"\u003e\u003cspan style=\"color: #e6a832;\"\u003e\u003cstrong\u003e🖤💛 \u003c\/strong\u003e\u003cem\u003e\u003cstrong\u003eThis showerhead adopts an anion filter design\u003c\/strong\u003e\u003c\/em\u003e\u003c\/span\u003e\u003c\/div\u003e\n\u003cdiv style=\"text-align: center;\"\u003e\u003cspan style=\"color: #e6a832;\"\u003e\u003cem\u003e\u003cstrong\u003e which makes it more safe and comfortable to shower.\u003c\/strong\u003e\u003c\/em\u003e\u003c\/span\u003e\u003c\/div\u003e\n\u003cdiv style=\"text-align: center;\"\u003e\u003cspan style=\"color: #e6a832;\"\u003e\u003cstrong\u003e\u0026gt;\u0026gt;\u003c\/strong\u003e\u003c\/span\u003e\u003c\/div\u003e\n\u003cp\u003e\u003cimg data-mce-fragment=\"1\" style=\"display: block; margin-left: auto; margin-right: auto;\" alt=\"\" src=\"https:\/\/cdn.shopifycdn.net\/s\/files\/1\/0537\/1684\/4743\/files\/1_ea201851-bdfd-416b-9ace-1734fc0e929c_480x480.png?v=1626244087\" width=\"428\" height=\"428\" data-mce-src=\"https:\/\/cdn.shopifycdn.net\/s\/files\/1\/0537\/1684\/4743\/files\/1_ea201851-bdfd-416b-9ace-1734fc0e929c_480x480.png?v=1626244087\"\u003e\u003cbr data-mce-fragment=\"1\"\u003e\u003cspan style=\"color: #000000;\"\u003e\u003cem\u003e\u003cstrong\u003eFeature:\u003c\/strong\u003e\u003c\/em\u003e\u003c\/span\u003e\u003cbr data-mce-fragment=\"1\"\u003e\u003c\/p\u003e\n\u003cul\u003e\n\u003cli\u003e\u003cbr\u003e\u003c\/li\u003e\n\u003c\/ul\u003e\n\u003cul\u003e\u003c\/ul\u003e\n\u003cp\u003e\u003cspan style=\"color: #000000;\"\u003e\u003cem\u003e\u003cstrong\u003eSpecification:\u003c\/strong\u003e\u003c\/em\u003e\u003c\/span\u003e\u003cbr data-mce-fragment=\"1\"\u003e\u003c\/p\u003e\n\u003cul\u003e\n\u003cli\u003e\n\u003cstrong\u003eMaterial:\u003c\/strong\u003e ABS\u003cbr\u003e\n\u003c\/li\u003e\n\u003cli\u003e\n\u003cstrong\u003eColor:\u003c\/strong\u003e \u003cspan data-mce-fragment=\"1\" class=\"VIiyi\" lang=\"en\" jsname=\"jqKxS\" jsaction=\"mouseup:BR6jm\"\u003e\u003cspan data-mce-fragment=\"1\" data-phrase-index=\"0\" data-language-to-translate-into=\"zh-CN\" data-language-for-alternatives=\"en\" class=\"JLqJ4b ChMk0b\" jsmodel=\"SsMkhd\" jsdata=\"uqLsIf;_;$301\" jscontroller=\"Zl5N8\" jsname=\"txFAF\" jsaction=\"agoMJf:PFBcW;usxOmf:aWLT7;jhKsnd:P7O7bd,F8DmGf;Q4AGo:Gm7gYd,qAKMYb;uFUCPb:pvnm0e,pfE8Hb,PFBcW;f56efd:dJXsye;EnoYf:KNzws,ZJsZZ,JgVSJc;zdMJQc:cCQNKb,ZJsZZ,zchEXc;Ytrrj:JJDvdc;tNR8yc:GeFvjb;oFN6Ye:hij5Wb\"\u003e\u003cspan data-mce-fragment=\"1\" jsname=\"W297wb\" jsaction=\"click:qtZ4nf,GFf3ac,tMZCfe; contextmenu:Nqw7Te,QP7LD; mouseout:Nqw7Te; mouseover:qtZ4nf,c2aHje\"\u003eSilver\u003c\/span\u003e\u003c\/span\u003e\u003c\/span\u003e\u003cbr\u003e\n\u003c\/li\u003e\n\u003cli\u003e\u003cspan class=\"VIiyi\" lang=\"en\" jsaction=\"mouseup:BR6jm\" jsname=\"jqKxS\"\u003e\u003cspan class=\"JLqJ4b ChMk0b\" data-language-for-alternatives=\"en\" data-language-to-translate-into=\"zh-CN\" data-phrase-index=\"0\" jsaction=\"agoMJf:PFBcW;usxOmf:aWLT7;jhKsnd:P7O7bd,F8DmGf;Q4AGo:Gm7gYd,qAKMYb;uFUCPb:pvnm0e,pfE8Hb,PFBcW;f56efd:dJXsye;EnoYf:KNzws,ZJsZZ,JgVSJc;zdMJQc:cCQNKb,ZJsZZ,zchEXc;Ytrrj:JJDvdc;tNR8yc:GeFvjb;oFN6Ye:hij5Wb\" jsname=\"txFAF\" jscontroller=\"Zl5N8\" jsdata=\"uqLsIf;_;$466\" jsmodel=\"SsMkhd\"\u003e\u003cspan jsaction=\"click:qtZ4nf,GFf3ac,tMZCfe; contextmenu:Nqw7Te,QP7LD; mouseout:Nqw7Te; mouseover:qtZ4nf,c2aHje\" jsname=\"W297wb\"\u003e\u003cstrong\u003eCategory:\u003c\/strong\u003e Shower\u003c\/span\u003e\u003c\/span\u003e\u003c\/span\u003e\u003c\/li\u003e\n\u003cli\u003e\u003cspan class=\"VIiyi\" lang=\"en\" jsaction=\"mouseup:BR6jm\" jsname=\"jqKxS\"\u003e\u003cspan class=\"JLqJ4b ChMk0b C1N51c\" data-language-for-alternatives=\"en\" data-language-to-translate-into=\"zh-CN\" data-phrase-index=\"0\" jsaction=\"agoMJf:PFBcW;usxOmf:aWLT7;jhKsnd:P7O7bd,F8DmGf;Q4AGo:Gm7gYd,qAKMYb;uFUCPb:pvnm0e,pfE8Hb,PFBcW;f56efd:dJXsye;EnoYf:KNzws,ZJsZZ,JgVSJc;zdMJQc:cCQNKb,ZJsZZ,zchEXc;Ytrrj:JJDvdc;tNR8yc:GeFvjb;oFN6Ye:hij5Wb\" jsname=\"txFAF\" jscontroller=\"Zl5N8\" jsdata=\"uqLsIf;_;$505\" jsmodel=\"SsMkhd\"\u003e\u003cspan jsaction=\"click:qtZ4nf,GFf3ac,tMZCfe; contextmenu:Nqw7Te,QP7LD; mouseout:Nqw7Te; mouseover:qtZ4nf,c2aHje\" jsname=\"W297wb\"\u003e\u003cstrong\u003eMode:\u003c\/strong\u003e Three gears\u003c\/span\u003e\u003c\/span\u003e\u003c\/span\u003e\u003c\/li\u003e\n\u003c\/ul\u003e\n\u003cp\u003e\u003cimg data-mce-fragment=\"1\" style=\"display: block; margin-left: auto; margin-right: auto;\" alt=\"\" src=\"https:\/\/cdn.shopifycdn.net\/s\/files\/1\/0537\/1684\/4743\/files\/2_7cc6b8fe-39a0-48af-8a36-ec7305276651_480x480.png?v=1626244424\" width=\"381\" height=\"381\" data-mce-src=\"https:\/\/cdn.shopifycdn.net\/s\/files\/1\/0537\/1684\/4743\/files\/2_7cc6b8fe-39a0-48af-8a36-ec7305276651_480x480.png?v=1626244424\"\u003e\u003cbr data-mce-fragment=\"1\"\u003e\u003cspan style=\"color: #000000;\"\u003e\u003cem\u003e\u003cstrong\u003ePackage includes:\u003c\/strong\u003e\u003c\/em\u003e\u003c\/span\u003e\u003cbr data-mce-fragment=\"1\"\u003e\u003c\/p\u003e\n\u003cul\u003e\n\u003cli\u003e1×Anion Shower Head Filter\u003c\/li\u003e\n\u003c\/ul\u003e","published_at":"2022-02-12T03:58:21-04:00","created_at":"2021-04-08T10:37:53-03:00","vendor":"Wichoos","type":"Bathroom","tags":["bathroom"],"price":1399,"price_min":1399,"price_max":1399,"available":true,"price_varies":false,"compare_at_price":2799,"compare_at_price_min":2799,"compare_at_price_max":2799,"compare_at_price_varies":false,"variants":[{"id":39675680325791,"title":"Default Title","option1":"Default Title","option2":null,"option3":null,"sku":"CP18792-E744","requires_shipping":true,"taxable":false,"featured_image":null,"available":true,"name":"3 Mode High-Pressure Ionic Filtration Water Saving Shower Head","public_title":null,"options":["Default Title"],"price":1399,"weight":0,"compare_at_price":2799,"inventory_management":null,"barcode":"","requires_selling_plan":false,"selling_plan_allocations":[]}],"images":["\/\/cdn.shopify.com\/s\/files\/1\/0557\/2824\/2847\/products\/5_540x_2b90400e-2672-4eae-972c-a3c5b27e1602.png?v=1644661225","\/\/cdn.shopify.com\/s\/files\/1\/0557\/2824\/2847\/products\/1_540x_0feb3f53-e5f9-462b-831f-31761ef34a4c.png?v=1644661282","\/\/cdn.shopify.com\/s\/files\/1\/0557\/2824\/2847\/products\/3_393c94c7-85d7-430c-8b82-4fa7b1ce0704.png?v=1644654645","\/\/cdn.shopify.com\/s\/files\/1\/0557\/2824\/2847\/products\/4_540x_4289c328-fd07-4266-902f-58f05c7a197e.png?v=1644661269","\/\/cdn.shopify.com\/s\/files\/1\/0557\/2824\/2847\/products\/wholesale-bathroom-ionic-mineral-pressur_main-2_480x480_5f25cfc4-cea7-40ef-bfd8-ed61b37d3a75.jpg?v=1644661257","\/\/cdn.shopify.com\/s\/files\/1\/0557\/2824\/2847\/products\/6_222604c7-2def-4aae-9ee4-5ce278645251.png?v=1644654645","\/\/cdn.shopify.com\/s\/files\/1\/0557\/2824\/2847\/products\/7_5c0ee1f5-7b1e-4a77-a463-be04964f939a.png?v=1644654645","\/\/cdn.shopify.com\/s\/files\/1\/0557\/2824\/2847\/products\/shower_head_img_3_480x480_fa1410a6-f4f7-4927-9818-1e96ed2fb6ab.jpg?v=1644661296"],"featured_image":"\/\/cdn.shopify.com\/s\/files\/1\/0557\/2824\/2847\/products\/5_540x_2b90400e-2672-4eae-972c-a3c5b27e1602.png?v=1644661225","options":["Title"],"media":[{"alt":null,"id":29183054315735,"position":1,"preview_image":{"aspect_ratio":1.0,"height":540,"width":540,"src":"https:\/\/cdn.shopify.com\/s\/files\/1\/0557\/2824\/2847\/products\/5_540x_2b90400e-2672-4eae-972c-a3c5b27e1602.png?v=1644661225"},"aspect_ratio":1.0,"height":540,"media_type":"image","src":"https:\/\/cdn.shopify.com\/s\/files\/1\/0557\/2824\/2847\/products\/5_540x_2b90400e-2672-4eae-972c-a3c5b27e1602.png?v=1644661225","width":540},{"alt":null,"id":29183052906711,"position":2,"preview_image":{"aspect_ratio":1.0,"height":540,"width":540,"src":"https:\/\/cdn.shopify.com\/s\/files\/1\/0557\/2824\/2847\/products\/1_540x_0feb3f53-e5f9-462b-831f-31761ef34a4c.png?v=1644661282"},"aspect_ratio":1.0,"height":540,"media_type":"image","src":"https:\/\/cdn.shopify.com\/s\/files\/1\/0557\/2824\/2847\/products\/1_540x_0feb3f53-e5f9-462b-831f-31761ef34a4c.png?v=1644661282","width":540},{"alt":null,"id":20836982128799,"position":3,"preview_image":{"aspect_ratio":1.0,"height":800,"width":800,"src":"https:\/\/cdn.shopify.com\/s\/files\/1\/0557\/2824\/2847\/products\/3_393c94c7-85d7-430c-8b82-4fa7b1ce0704.png?v=1644654645"},"aspect_ratio":1.0,"height":800,"media_type":"image","src":"https:\/\/cdn.shopify.com\/s\/files\/1\/0557\/2824\/2847\/products\/3_393c94c7-85d7-430c-8b82-4fa7b1ce0704.png?v=1644654645","width":800},{"alt":null,"id":29183053693143,"position":4,"preview_image":{"aspect_ratio":1.0,"height":540,"width":540,"src":"https:\/\/cdn.shopify.com\/s\/files\/1\/0557\/2824\/2847\/products\/4_540x_4289c328-fd07-4266-902f-58f05c7a197e.png?v=1644661269"},"aspect_ratio":1.0,"height":540,"media_type":"image","src":"https:\/\/cdn.shopify.com\/s\/files\/1\/0557\/2824\/2847\/products\/4_540x_4289c328-fd07-4266-902f-58f05c7a197e.png?v=1644661269","width":540},{"alt":null,"id":29183050744023,"position":5,"preview_image":{"aspect_ratio":1.0,"height":480,"width":480,"src":"https:\/\/cdn.shopify.com\/s\/files\/1\/0557\/2824\/2847\/products\/wholesale-bathroom-ionic-mineral-pressur_main-2_480x480_5f25cfc4-cea7-40ef-bfd8-ed61b37d3a75.jpg?v=1644661257"},"aspect_ratio":1.0,"height":480,"media_type":"image","src":"https:\/\/cdn.shopify.com\/s\/files\/1\/0557\/2824\/2847\/products\/wholesale-bathroom-ionic-mineral-pressur_main-2_480x480_5f25cfc4-cea7-40ef-bfd8-ed61b37d3a75.jpg?v=1644661257","width":480},{"alt":null,"id":20836982227103,"position":6,"preview_image":{"aspect_ratio":1.0,"height":800,"width":800,"src":"https:\/\/cdn.shopify.com\/s\/files\/1\/0557\/2824\/2847\/products\/6_222604c7-2def-4aae-9ee4-5ce278645251.png?v=1644654645"},"aspect_ratio":1.0,"height":800,"media_type":"image","src":"https:\/\/cdn.shopify.com\/s\/files\/1\/0557\/2824\/2847\/products\/6_222604c7-2def-4aae-9ee4-5ce278645251.png?v=1644654645","width":800},{"alt":null,"id":20836982259871,"position":7,"preview_image":{"aspect_ratio":1.0,"height":800,"width":800,"src":"https:\/\/cdn.shopify.com\/s\/files\/1\/0557\/2824\/2847\/products\/7_5c0ee1f5-7b1e-4a77-a463-be04964f939a.png?v=1644654645"},"aspect_ratio":1.0,"height":800,"media_type":"image","src":"https:\/\/cdn.shopify.com\/s\/files\/1\/0557\/2824\/2847\/products\/7_5c0ee1f5-7b1e-4a77-a463-be04964f939a.png?v=1644654645","width":800},{"alt":null,"id":29183051727063,"position":8,"preview_image":{"aspect_ratio":1.0,"height":480,"width":480,"src":"https:\/\/cdn.shopify.com\/s\/files\/1\/0557\/2824\/2847\/products\/shower_head_img_3_480x480_fa1410a6-f4f7-4927-9818-1e96ed2fb6ab.jpg?v=1644661296"},"aspect_ratio":1.0,"height":480,"media_type":"image","src":"https:\/\/cdn.shopify.com\/s\/files\/1\/0557\/2824\/2847\/products\/shower_head_img_3_480x480_fa1410a6-f4f7-4927-9818-1e96ed2fb6ab.jpg?v=1644661296","width":480}],"requires_selling_plan":false,"selling_plan_groups":[],"content":"\u003cdiv data-v-14c47a90=\"\" data-v-796cd32d=\"\" class=\"element-wrapper\"\u003e\n\u003cdiv data-v-14c47a90=\"\" class=\"paragraph el-840552\"\u003e\n\u003cdiv class=\"paragraph-inner\"\u003e\n\u003ch3 style=\"text-align: center;\"\u003e\u003cspan style=\"color: #ff2a00;\"\u003e\u003cstrong\u003e😱Throw That Old Infested Shower Head Away!\u003c\/strong\u003e\u003c\/span\u003e\u003c\/h3\u003e\n\u003c\/div\u003e\n\u003c\/div\u003e\n\u003c\/div\u003e\n\u003cdiv style=\"text-align: center;\" data-v-14c47a90=\"\" data-v-796cd32d=\"\" class=\"element-wrapper\"\u003e\u003c\/div\u003e\n\u003cdiv data-v-14c47a90=\"\" data-v-796cd32d=\"\" class=\"element-wrapper\"\u003e\n\u003cdiv data-v-14c47a90=\"\" class=\"paragraph el-987611\"\u003e\n\u003cdiv class=\"paragraph-inner\"\u003e\n\u003cp style=\"text-align: center;\"\u003eYet you still have \u003cstrong\u003edry skin and damaged\u003c\/strong\u003e\u003cspan\u003e \u003c\/span\u003e\u003cstrong\u003ehair\u003c\/strong\u003e\u003cspan\u003e? Your shower head is to blame!\u003c\/span\u003e\u003c\/p\u003e\n\u003c\/div\u003e\n\u003c\/div\u003e\n\u003c\/div\u003e\n\u003cp\u003e\u003cimg style=\"display: block; margin-left: auto; margin-right: auto;\" height=\"374\" width=\"312\" src=\"https:\/\/img.funnelish.com\/3730\/15334\/1641765329-Competitors%20%281%29.png\"\u003e\u003c\/p\u003e\n\u003cdiv style=\"text-align: center;\"\u003eThe High-Pressure Shower Head will turn your shower into a home spa in just 5 minutes. Universal Size G1\/2" fits any standard shower which means there is no need to contact a plumber. Suitable for low water pressure pipelines in old-style residences also \u003c\/div\u003e\n\u003cdiv\u003e\u003cimg src=\"https:\/\/cdn.shopify.com\/s\/files\/1\/0248\/6665\/2222\/files\/high_pressure_water_saving_shower_head_filter.gif?v=1582799273\" alt=\"water saving shower head\" style=\"display: block; margin-left: auto; margin-right: auto;\"\u003e\u003c\/div\u003e\n\u003cdiv\u003e\u003c\/div\u003e\n\u003cp\u003e\u003cspan style=\"color: #ff2a00;\"\u003e\u003cstrong\u003eDESCRIPTIONS:\u003c\/strong\u003e\u003c\/span\u003e\u003c\/p\u003e\n\u003cul\u003e\n\u003cli\u003eEnjoy luxurious Spa experience with \u003cspan style=\"color: #3d85c6;\"\u003e\u003cstrong\u003ehigh-pressure ionic filtration shower head\u003c\/strong\u003e\u003c\/span\u003e!\u003c\/li\u003e\n\u003cli\u003eImpurities in your tap water will often dry your skin and cause an imbalance in your oil glands.\u003c\/li\u003e\n\u003cli\u003eWith the purifying effect of the bioactive stones, our shower heads will help you restore balance.\u003c\/li\u003e\n\u003cli\u003eHealth benefits may include smoother skin, reduce oil secretion, and increase cell viability.\u003c\/li\u003e\n\u003c\/ul\u003e\n\u003cp\u003e\u003cimg src=\"https:\/\/cdn.shopify.com\/s\/files\/1\/0515\/1817\/7446\/products\/71550119-7817-4c23-bd5c-6c735a78fa34.__CR0_0_970_600_PT0_SX970_V1_720x_38ec3fa9-ba7d-470c-a904-cbda7dda807b_600x.jpg?v=1640951888\" width=\"376\" height=\"207\" style=\"display: block; margin-left: auto; margin-right: auto;\"\u003e\u003c\/p\u003e\n\u003cp\u003e\u003cspan style=\"color: #ff0000;\"\u003e\u003cstrong\u003eFEATURES:\u003c\/strong\u003e\u003c\/span\u003e\u003c\/p\u003e\n\u003cdiv class=\"Product__InfoWrapper\"\u003e\n\u003cdiv class=\"Product__Info\"\u003e\n\u003cdiv class=\"Container\"\u003e\n\u003cdiv class=\"ProductMeta__Description\"\u003e\n\u003cdiv class=\"Rte\"\u003e\n\u003cul\u003e\n\u003cli\u003e\n\u003cspan style=\"color: #ff8000;\"\u003e\u003cstrong\u003e👍 High quality and durable:\u003c\/strong\u003e \u003c\/span\u003eMade of thickened ABS body, high-density transparent filter with the built-in leakproof ring, this shower head is eco-friendly and durable to use. Surface treated with high-grade electroplating, it looks elegant and beautiful and glossy.\u003c\/li\u003e\n\u003c\/ul\u003e\n\u003cul\u003e\n\u003cli\u003e\n\u003cspan style=\"color: #ff8000;\"\u003e\u003cstrong\u003e👍 Powerful filtering capability:\u003c\/strong\u003e \u003c\/span\u003eBuilt-in negative ion mineral beads can remove residual chlorine, metallic impurity, fluoride and bacteria, maintain the PH balance of water, purify water quality, soften your skin and hair.\u003c\/li\u003e\n\u003c\/ul\u003e\n\u003cp\u003e\u003cimg style=\"display: block; margin-left: auto; margin-right: auto;\" height=\"351\" width=\"351\" alt=\"\" src=\"https:\/\/cdn.shopifycdn.net\/s\/files\/1\/0537\/1684\/4743\/files\/5_36fdb16d-d5f2-4ad3-86d8-d01088839b84_480x480.png?v=1626244244\"\u003e\u003c\/p\u003e\n\u003cul\u003e\n\u003cli\u003e\n\u003cspan style=\"color: #ff8000;\"\u003e\u003cstrong\u003e👍 3-modes adjustable:\u003c\/strong\u003e \u003c\/span\u003eThis showerhead has 3 adjustable watering modes which can meet your different needs.\u003c\/li\u003e\n\u003c\/ul\u003e\n\u003cul\u003e\n\u003cli\u003e\n\u003cspan style=\"color: #ff8000;\"\u003e\u003cstrong\u003e👍 High pressure and water Saving:\u003c\/strong\u003e \u003c\/span\u003eThe fine and dense micro water outlets design to increase the speed of the water flow, making outflow water strongly and delicately, greatly increasing water pressure while saving more water.\u003c\/li\u003e\n\u003c\/ul\u003e\n\u003cul\u003e\n\u003cli\u003e\n\u003cdiv\u003e\n\u003cspan style=\"color: #ff8000;\"\u003e\u003cstrong\u003e👍 Special Mineral Balls\u003c\/strong\u003e -\u003c\/span\u003e The infrared mineral stone and negative ion mineral stone make up double filter system for reducing chlorine and absorbing harmful substances in the water, softens and purifies shower water to make your skin and hair smoother and softer\u003c\/div\u003e\n\u003c\/li\u003e\n\u003c\/ul\u003e\n\u003cp\u003e\u003cimg style=\"display: block; margin-left: auto; margin-right: auto;\" alt=\"\" src=\"https:\/\/cdn.shopify.com\/s\/files\/1\/0515\/1817\/7446\/files\/zhang-ji-3-modes-bath-shower-adjustable-j_description-24_480x480.jpg?v=1619613858\" width=\"351\" height=\"351\"\u003e\u003c\/p\u003e\n\u003cul\u003e\n\u003cli\u003e\n\u003cspan style=\"color: #ff8000;\"\u003e\u003cstrong\u003e👍 Easy to install:\u003c\/strong\u003e \u003c\/span\u003eDesigned for connecting to any standard shower hose in minutes without extra tools, very quickly and easily.\u003c\/li\u003e\n\u003c\/ul\u003e\n\u003c\/div\u003e\n\u003c\/div\u003e\n\u003c\/div\u003e\n\u003c\/div\u003e\n\u003c\/div\u003e\n\u003cul\u003e\n\u003cli\u003e\n\u003cp data-mce-fragment=\"1\"\u003e\u003cspan style=\"color: #ff8000;\"\u003e\u003cstrong\u003e▶ All-natural\u003c\/strong\u003e \u003c\/span\u003eBio-active Stones provide Eco-pure Water Filtration, Keep water's pH Balance.It also makes your skin and hair smoother and softer by purifying the water and softening its Comfortable SPA experience in your own bathroom.\u003c\/p\u003e\n\u003c\/li\u003e\n\u003c\/ul\u003e\n\u003cp\u003e\u003cimg style=\"display: block; margin-left: auto; margin-right: auto;\" alt=\"\" src=\"https:\/\/cdn.shopify.com\/s\/files\/1\/0515\/1817\/7446\/files\/shower_head_img_3_480x480.jpg?v=1624725689\" width=\"350\" height=\"350\"\u003e\u003c\/p\u003e\n\u003ch3\u003e\u003cspan style=\"color: #ff8000;\"\u003e\u003cstrong\u003e3 SPRAY SETTINGS\u003c\/strong\u003e\u003c\/span\u003e\u003c\/h3\u003e\n\u003cul\u003e\n\u003cli\u003e\n\u003cspan data-mce-fragment=\"1\"\u003e\u003cstrong data-mce-fragment=\"1\"\u003eMassage: \u003c\/strong\u003e\u003c\/span\u003eTargets your tension with a more focused stream, melting away aches and pains.\u003c\/li\u003e\n\u003cli\u003e\n\u003cspan data-mce-fragment=\"1\"\u003e\u003cstrong data-mce-fragment=\"1\"\u003eRainfall: \u003c\/strong\u003e\u003c\/span\u003eCreates a more relaxing shower experience with a constant, steady water flow.\u003c\/li\u003e\n\u003cli\u003e\n\u003cstrong data-mce-fragment=\"1\"\u003e\u003cspan\u003eJetting\u003c\/span\u003e: \u003c\/strong\u003eA high intensity spray to wake you up, give you a more powerful clean and invigorate your senses\u003c\/li\u003e\n\u003c\/ul\u003e\n\u003cp data-mce-fragment=\"1\"\u003e\u003cem data-mce-fragment=\"1\"\u003e\u003cspan data-mce-fragment=\"1\"\u003e\u003cstrong data-mce-fragment=\"1\"\u003e\u003cimg data-mce-fragment=\"1\" src=\"https:\/\/cdn.shopify.com\/s\/files\/1\/0515\/1817\/7446\/files\/wholesale-bathroom-ionic-mineral-pressur_main-2_480x480.jpg?v=1640512230\" alt=\"\" style=\"display: block; margin-left: auto; margin-right: auto;\" data-mce-src=\"https:\/\/cdn.shopify.com\/s\/files\/1\/0515\/1817\/7446\/files\/wholesale-bathroom-ionic-mineral-pressur_main-2_480x480.jpg?v=1640512230\" data-mce-selected=\"1\"\u003e\u003c\/strong\u003e\u003c\/span\u003e\u003c\/em\u003e\u003c\/p\u003e\n\u003cp\u003e\u003cspan style=\"color: #ff0000;\"\u003e\u003cstrong\u003eSpecification:\u003c\/strong\u003e\u003c\/span\u003e\u003c\/p\u003e\n\u003col\u003e\n\u003cli\u003e- \u003cstrong\u003eShowerhead Length\u003c\/strong\u003e: 9.44in\u003c\/li\u003e\n\u003cli\u003e- \u003cstrong\u003eShowerhead Diameter\u003c\/strong\u003e: 3.14in\u003c\/li\u003e\n\u003cli\u003e- \u003cstrong\u003eFlow Rate\u003c\/strong\u003e: 2.5 GPM\u003c\/li\u003e\n\u003cli\u003e- \u003cstrong\u003eWater Consumption\u003c\/strong\u003e: 2.5 GPM\u003c\/li\u003e\n\u003c\/ol\u003e\n\u003cp\u003e\u003cbr\u003e\u003cspan style=\"color: #ff0000;\"\u003e\u003cstrong\u003ePackage includes :\u003c\/strong\u003e\u003c\/span\u003e\u003c\/p\u003e\n\u003cul\u003e\n\u003cli\u003e1 * \u003cspan style=\"color: #3d85c6;\"\u003e\u003cstrong\u003ehigh-pressure ionic filtration shower head\u003c\/strong\u003e\u003c\/span\u003e\n\u003c\/li\u003e\n\u003c\/ul\u003e\n\u003cdiv style=\"text-align: center;\"\u003e\u003cspan style=\"color: #e6a832;\"\u003e\u003cstrong\u003e🖤💛 \u003c\/strong\u003e\u003cem\u003e\u003cstrong\u003eThis showerhead adopts an anion filter design\u003c\/strong\u003e\u003c\/em\u003e\u003c\/span\u003e\u003c\/div\u003e\n\u003cdiv style=\"text-align: center;\"\u003e\u003cspan style=\"color: #e6a832;\"\u003e\u003cem\u003e\u003cstrong\u003e which makes it more safe and comfortable to shower.\u003c\/strong\u003e\u003c\/em\u003e\u003c\/span\u003e\u003c\/div\u003e\n\u003cdiv style=\"text-align: center;\"\u003e\u003cspan style=\"color: #e6a832;\"\u003e\u003cstrong\u003e\u0026gt;\u0026gt;\u003c\/strong\u003e\u003c\/span\u003e\u003c\/div\u003e\n\u003cp\u003e\u003cimg data-mce-fragment=\"1\" style=\"display: block; margin-left: auto; margin-right: auto;\" alt=\"\" src=\"https:\/\/cdn.shopifycdn.net\/s\/files\/1\/0537\/1684\/4743\/files\/1_ea201851-bdfd-416b-9ace-1734fc0e929c_480x480.png?v=1626244087\" width=\"428\" height=\"428\" data-mce-src=\"https:\/\/cdn.shopifycdn.net\/s\/files\/1\/0537\/1684\/4743\/files\/1_ea201851-bdfd-416b-9ace-1734fc0e929c_480x480.png?v=1626244087\"\u003e\u003cbr data-mce-fragment=\"1\"\u003e\u003cspan style=\"color: #000000;\"\u003e\u003cem\u003e\u003cstrong\u003eFeature:\u003c\/strong\u003e\u003c\/em\u003e\u003c\/span\u003e\u003cbr data-mce-fragment=\"1\"\u003e\u003c\/p\u003e\n\u003cul\u003e\n\u003cli\u003e\u003cbr\u003e\u003c\/li\u003e\n\u003c\/ul\u003e\n\u003cul\u003e\u003c\/ul\u003e\n\u003cp\u003e\u003cspan style=\"color: #000000;\"\u003e\u003cem\u003e\u003cstrong\u003eSpecification:\u003c\/strong\u003e\u003c\/em\u003e\u003c\/span\u003e\u003cbr data-mce-fragment=\"1\"\u003e\u003c\/p\u003e\n\u003cul\u003e\n\u003cli\u003e\n\u003cstrong\u003eMaterial:\u003c\/strong\u003e ABS\u003cbr\u003e\n\u003c\/li\u003e\n\u003cli\u003e\n\u003cstrong\u003eColor:\u003c\/strong\u003e \u003cspan data-mce-fragment=\"1\" class=\"VIiyi\" lang=\"en\" jsname=\"jqKxS\" jsaction=\"mouseup:BR6jm\"\u003e\u003cspan data-mce-fragment=\"1\" data-phrase-index=\"0\" data-language-to-translate-into=\"zh-CN\" data-language-for-alternatives=\"en\" class=\"JLqJ4b ChMk0b\" jsmodel=\"SsMkhd\" jsdata=\"uqLsIf;_;$301\" jscontroller=\"Zl5N8\" jsname=\"txFAF\" jsaction=\"agoMJf:PFBcW;usxOmf:aWLT7;jhKsnd:P7O7bd,F8DmGf;Q4AGo:Gm7gYd,qAKMYb;uFUCPb:pvnm0e,pfE8Hb,PFBcW;f56efd:dJXsye;EnoYf:KNzws,ZJsZZ,JgVSJc;zdMJQc:cCQNKb,ZJsZZ,zchEXc;Ytrrj:JJDvdc;tNR8yc:GeFvjb;oFN6Ye:hij5Wb\"\u003e\u003cspan data-mce-fragment=\"1\" jsname=\"W297wb\" jsaction=\"click:qtZ4nf,GFf3ac,tMZCfe; contextmenu:Nqw7Te,QP7LD; mouseout:Nqw7Te; mouseover:qtZ4nf,c2aHje\"\u003eSilver\u003c\/span\u003e\u003c\/span\u003e\u003c\/span\u003e\u003cbr\u003e\n\u003c\/li\u003e\n\u003cli\u003e\u003cspan class=\"VIiyi\" lang=\"en\" jsaction=\"mouseup:BR6jm\" jsname=\"jqKxS\"\u003e\u003cspan class=\"JLqJ4b ChMk0b\" data-language-for-alternatives=\"en\" data-language-to-translate-into=\"zh-CN\" data-phrase-index=\"0\" jsaction=\"agoMJf:PFBcW;usxOmf:aWLT7;jhKsnd:P7O7bd,F8DmGf;Q4AGo:Gm7gYd,qAKMYb;uFUCPb:pvnm0e,pfE8Hb,PFBcW;f56efd:dJXsye;EnoYf:KNzws,ZJsZZ,JgVSJc;zdMJQc:cCQNKb,ZJsZZ,zchEXc;Ytrrj:JJDvdc;tNR8yc:GeFvjb;oFN6Ye:hij5Wb\" jsname=\"txFAF\" jscontroller=\"Zl5N8\" jsdata=\"uqLsIf;_;$466\" jsmodel=\"SsMkhd\"\u003e\u003cspan jsaction=\"click:qtZ4nf,GFf3ac,tMZCfe; contextmenu:Nqw7Te,QP7LD; mouseout:Nqw7Te; mouseover:qtZ4nf,c2aHje\" jsname=\"W297wb\"\u003e\u003cstrong\u003eCategory:\u003c\/strong\u003e Shower\u003c\/span\u003e\u003c\/span\u003e\u003c\/span\u003e\u003c\/li\u003e\n\u003cli\u003e\u003cspan class=\"VIiyi\" lang=\"en\" jsaction=\"mouseup:BR6jm\" jsname=\"jqKxS\"\u003e\u003cspan class=\"JLqJ4b ChMk0b C1N51c\" data-language-for-alternatives=\"en\" data-language-to-translate-into=\"zh-CN\" data-phrase-index=\"0\" jsaction=\"agoMJf:PFBcW;usxOmf:aWLT7;jhKsnd:P7O7bd,F8DmGf;Q4AGo:Gm7gYd,qAKMYb;uFUCPb:pvnm0e,pfE8Hb,PFBcW;f56efd:dJXsye;EnoYf:KNzws,ZJsZZ,JgVSJc;zdMJQc:cCQNKb,ZJsZZ,zchEXc;Ytrrj:JJDvdc;tNR8yc:GeFvjb;oFN6Ye:hij5Wb\" jsname=\"txFAF\" jscontroller=\"Zl5N8\" jsdata=\"uqLsIf;_;$505\" jsmodel=\"SsMkhd\"\u003e\u003cspan jsaction=\"click:qtZ4nf,GFf3ac,tMZCfe; contextmenu:Nqw7Te,QP7LD; mouseout:Nqw7Te; mouseover:qtZ4nf,c2aHje\" jsname=\"W297wb\"\u003e\u003cstrong\u003eMode:\u003c\/strong\u003e Three gears\u003c\/span\u003e\u003c\/span\u003e\u003c\/span\u003e\u003c\/li\u003e\n\u003c\/ul\u003e\n\u003cp\u003e\u003cimg data-mce-fragment=\"1\" style=\"display: block; margin-left: auto; margin-right: auto;\" alt=\"\" src=\"https:\/\/cdn.shopifycdn.net\/s\/files\/1\/0537\/1684\/4743\/files\/2_7cc6b8fe-39a0-48af-8a36-ec7305276651_480x480.png?v=1626244424\" width=\"381\" height=\"381\" data-mce-src=\"https:\/\/cdn.shopifycdn.net\/s\/files\/1\/0537\/1684\/4743\/files\/2_7cc6b8fe-39a0-48af-8a36-ec7305276651_480x480.png?v=1626244424\"\u003e\u003cbr data-mce-fragment=\"1\"\u003e\u003cspan style=\"color: #000000;\"\u003e\u003cem\u003e\u003cstrong\u003ePackage includes:\u003c\/strong\u003e\u003c\/em\u003e\u003c\/span\u003e\u003cbr data-mce-fragment=\"1\"\u003e\u003c\/p\u003e\n\u003cul\u003e\n\u003cli\u003e1×Anion Shower Head Filter\u003c\/li\u003e\n\u003c\/ul\u003e"}
3 Mode High-Pressure Ionic Filtration Water Saving Shower Head
Adding product to your cart
😱Throw That Old Infested Shower Head Away!
Yet you still have dry skin and damaged hair? Your shower head is to blame!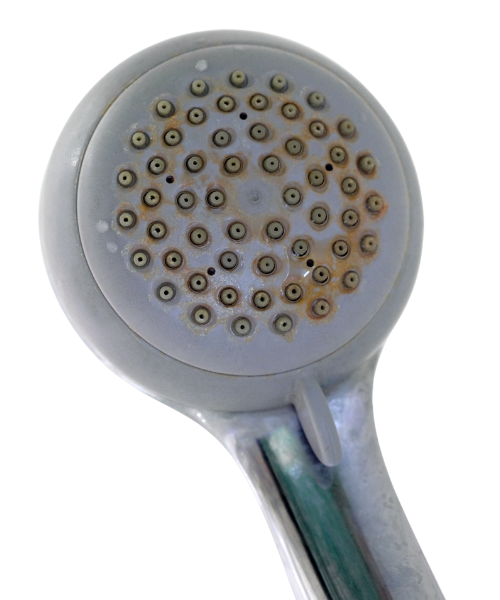 The High-Pressure Shower Head will turn your shower into a home spa in just 5 minutes. Universal Size G1/2" fits any standard shower which means there is no need to contact a plumber. Suitable for low water pressure pipelines in old-style residences also 
DESCRIPTIONS:
Enjoy luxurious Spa experience with high-pressure ionic filtration shower head!
Impurities in your tap water will often dry your skin and cause an imbalance in your oil glands.
With the purifying effect of the bioactive stones, our shower heads will help you restore balance.
Health benefits may include smoother skin, reduce oil secretion, and increase cell viability.
FEATURES:
👍 High quality and durable: Made of thickened ABS body, high-density transparent filter with the built-in leakproof ring, this shower head is eco-friendly and durable to use. Surface treated with high-grade electroplating, it looks elegant and beautiful and glossy.
👍 Powerful filtering capability: Built-in negative ion mineral beads can remove residual chlorine, metallic impurity, fluoride and bacteria, maintain the PH balance of water, purify water quality, soften your skin and hair.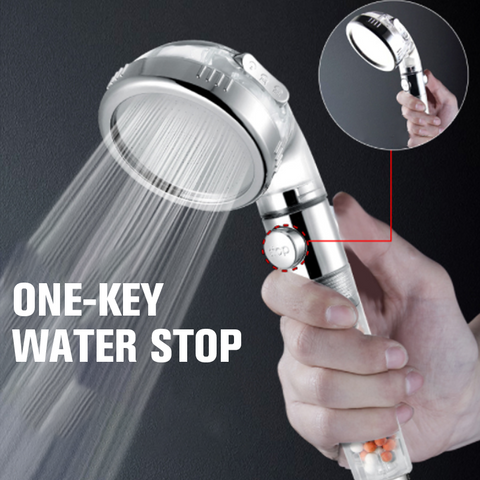 👍 3-modes adjustable: This showerhead has 3 adjustable watering modes which can meet your different needs.
👍 High pressure and water Saving: The fine and dense micro water outlets design to increase the speed of the water flow, making outflow water strongly and delicately, greatly increasing water pressure while saving more water.
👍 Special Mineral Balls - The infrared mineral stone and negative ion mineral stone make up double filter system for reducing chlorine and absorbing harmful substances in the water, softens and purifies shower water to make your skin and hair smoother and softer
👍 Easy to install: Designed for connecting to any standard shower hose in minutes without extra tools, very quickly and easily.
▶ All-natural Bio-active Stones provide Eco-pure Water Filtration, Keep water's pH Balance.It also makes your skin and hair smoother and softer by purifying the water and softening its Comfortable SPA experience in your own bathroom.
3 SPRAY SETTINGS
Massage: Targets your tension with a more focused stream, melting away aches and pains.
Rainfall: Creates a more relaxing shower experience with a constant, steady water flow.

Jetting

: A high intensity spray to wake you up, give you a more powerful clean and invigorate your senses
Specification:
- Showerhead Length: 9.44in
- Showerhead Diameter: 3.14in
- Flow Rate: 2.5 GPM
- Water Consumption: 2.5 GPM

Package includes :
1 * high-pressure ionic filtration shower head
🖤💛 This showerhead adopts an anion filter design
which makes it more safe and comfortable to shower.
>>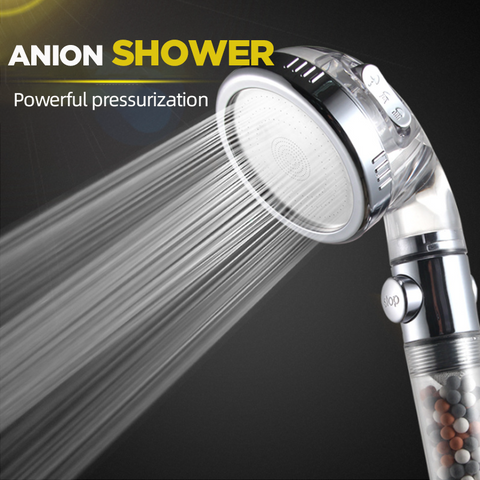 Feature:

Specification:

Material: ABS

Color:

Silver



Category: Shower
Mode: Three gears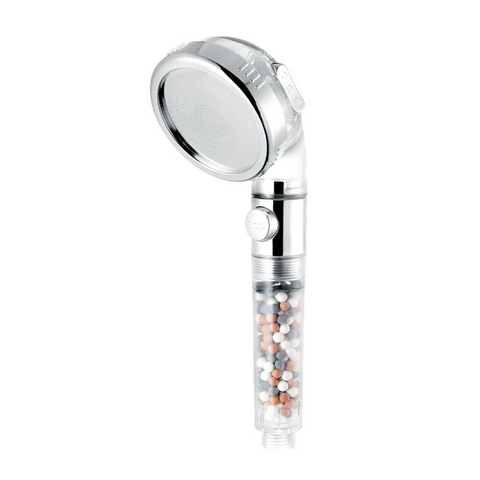 Package includes:

1×Anion Shower Head Filter